The NVS offers a range of publications;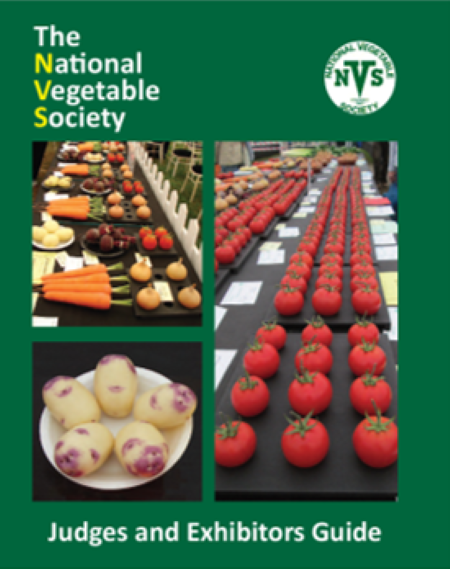 NVS Judges & Exhibitors Guide;(£10.00 + P&P)

NOW AVAILABLE
PLEASE NOTE, we have put the price up slightly, due to the increase in printing costs.

An invaluable comprehensive document for exhibitors and Judges alike. The guide is the official NVS guide to judging and exhibiting in a show. a loose-leaf folder (approx. A5 size) containing over 120 pages of illustrated and detailed information with approx. 100 pages on veg types with what the judge looks for, including pointing requirements, Merits, Defects, Advice and Pests & Diseases. The guide contains advice for exhibitors, suggestions for Show Organisers, Stewards & Judges.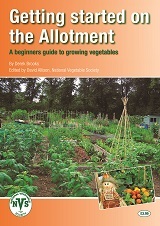 Getting Started on the Allotment (£3.99) + P&P)

We are currently out of stock
A beginners guide to growing vegetables, this 66 page book provides a wealth of information, including month by month reminders and detail such us bed preparation, maintenance, variety choice, pest & disease protection and much more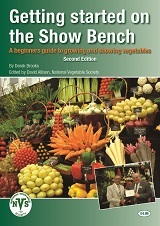 Getting Started on the Show Bench (£4.99 + P&P)

A beginners guide to growing and showing vegetables, this 66 page book provides growing details from sowing to staging on the show bench. The book covers many of the main show vegetables including onions, leeks, celery, tomatoes, cucumbers, carrots, parsnips & beetroot , to name a few.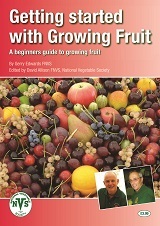 Getting Started With Growing Fruit (£3.99 + P&P)

A beginner's guide to growing fruit, this 78page book provides a wealth of information,
including seasonal tips, the author, Gerry Edwards, take you through the fruit
growing year and recommend varieties to suit all tastes. Included are Strawberries,
Raspberries, Gooseberries, Blueberries, Blackberries & Hybrid cane berries,
Apples, Apricots, Plums & Gages, Peaches, Nectarines, Nuts and Grapes.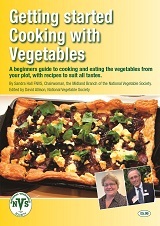 Getting Started Cooking with Vegetables (£5.99 + P&P)

A beginner's guide to cooking and eating vegetables from your plot with recipes to suit all tastes. This 80 page book contains recipes are simple to follow, ranging from preserves, pickles & relishes, thought to salads, soups, desserts & cakes (with hidden veg), BBQ Food and much more.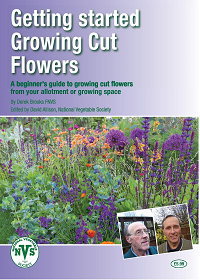 Getting Started Growing Cut Flowers (5.99 + P&P)

A beginner's guide to growing cut flowers from your allotment, garden, or growing space. This 76page book encourages you to grow your own flowers, in your garden, greenhouse or allotment. The book provides details from sowing seeds, taking cuttings, propagation, planting out, growing methods, maintenance and aftercare as well as providing detail of different varieties and suppliers. Flowers covered include Chrysanthemums, Dahlias, Roses, Carnations & Pinks, Sweet Peas, Annuals, Perennials & Biennials, Bulbs & Shrubs.
contact Sandra Hall to order any of the above items ; (Tel (01952) 541396 or Email Sandra
Also, please note that in some circumstances, your local Branch stock holder may be
able to arrange to have stock made available locally for a specific event ( e.g. at a show , seminar or talk) for ease of collection, rather than mailing.